Star Crossed Lovers
When lovers are Star Crossed, will they ever get a chance at love.
Star Crossed: a man and a woman of opposite side of a war, an illegitimate child of nobility falling in love with a noble and an Irish Catholic and a Protestant.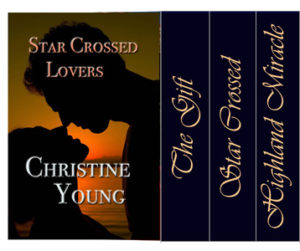 Buy at: Amazon and read at Amazon Unlimited
EXCERPTS
The Gift
"Get in the house, now!"
"Mama?"
Elice Weld shielded her eyes and watched the ground fog rising in the distance. She didn't know what was coming her way, but she could guess. The rumors that a Union cavalry unit was in the vicinity had spread like a wildfire on a Kansas prairie.
Rain had fallen all morning. Now the clouds had separated, and the sun heated the earth, causing the evaporation of the water-soaked ground. The cavalry rode through the mist like dark, avenging wraiths bent on the destruction of all mankind. She could see seven men silhouetted on the horizon.
"Izzy, go." Elice didn't want to frighten her daughter but the urgency of the moment could not be denied.
"But mama?"
"Go to the cellar. Now."
"It's dark."
Izzy's voice echoed in Elice's head, filling her with a wild panic she didn't know how to stop. Every time soldiers approached she was terrified. The last four years had been the longest years of her life. "Do as I say, quickly." Elice hugged her daughter, turning her at the same moment and with a gentle shove sent her through the open door of her house.
"Izzy."
Elice knew the panic in her voice would mobilize her young daughter. She despised the fear and the terror. She loathed the war. She looked up. The fog was dissipating, and she could see the dark blue of the Union coats. She didn't have anything left for the soldiers to take. Good God, they'd taken everything already–everything save her daughter and her hope for the future.
She inhaled a quick breath then stood on the steps, hands folded together in front of her, watching the dark wraiths inch closer. She knew from experience she couldn't fight these men. She would do as they said and when they left, she would put the pieces of her life back together.
Until the next time…
"Mama," Elice jumped when her daughter tugged on her skirt before looking at her with sorrow-filled eyes. "Are the soldiers going to take my doll?"
"No," Elice ruffled her little girl's hair. "Go back inside. Go to the cellar and don't come out until I tell you it's safe."
"What about you?"
"I'll be fine." But Elice knew she might be lying to her child. She wasn't always fine when the soldiers invaded their home. "Now go and don't make me say it again. Stay there until I come for you."
Izzy nodded before she turned and walked through the parlor to the stairs leading to the cellar.
Star Crossed
Casey pushed on the green grass, trying to unwind herself from the man beneath her, but fell again. All right, Casey lass, you're in a heap of trouble right now with no way out. You are seeing the earth whirl and tumble around and you're on top of a brute of a man–a Protestant.
"All right, lads, we'll meet here next Sunday, same place, same time," her brother's voice filtered through the air as if it floated in the fog that surrounded Casey.
Once again she pushed on the damp grass and didn't seem to make headway, her arms feeling as if they'd changed to soggy twine. Don't you abandon me, Patrick O'Connell. You know I have the Devil's own luck. If you leave me here, I'll never forgive you.
"What about Casey?" one of her brother's friend asked. "She looks a little worse for the encounter."
"Do you think we should leave her here–with Kelly?"
"He's a right stand-up guy. Of course you can leave her here. We'll see her home," a Shaunasey said.
"Well, Kelly is a fine bloke. He won't hurt her. In fact with my feisty lil' sister involved, I fear for him–not her," Patrick said laughing. "She'll do as she pleases. She always does. How can I control her when father cannot? She does not need a second father." He shrugged his shoulder and looked behind him at his little sister as he strolled down the hill.
"She's hurt," another friend called after Patrick. "What kind of brother are you?"
"One who is tired of looking after an accident prone little lass. She has to take responsibility for herself sometime, does she not?"
"She is that," one commented. "You rescue her night and day.
~ * ~
"You should have blessed her with a wee bit o'Irish coordination," Oran said dryly as he flew to a hovering position near the girl.
"And you should remember what our blessed mother told us, 'if you cannot say anythin' nice, don't say anything at all'." Moya rose above the flower petal, her wings buzzing with her anger toward her brother.
"I didn't say anything that wasn't the truth." Oran whistled out of tune for a moment. "We could kidnap them."
"And that is your solution to everything?" Moya pointed one finger at him and shook it. "Why, Oran, I believe you may fancy the lass for yourself. I will not have it. Go play your tricks on someone else's charge. She is mine to see to safety and long life. And don't be forgettin' the lad is yours to watch over."
"You best stem your anger, Moya. You're wings have turned golden," Oran said with a hearty chuckle.
~ * ~
"Let Kelly handle her," Casey's brother said with a light chuckle. "He lost and so he must deal with the object of that loss and assume the consequences. It's only fair."
"Hey!" Kelly said, "Don't leave me here with your sister. It will be hell to pay. She's a little girl. What will your father say?"
The others laughed. "Just don't take too long to decide what to do with her. Little girl or not, father will come after you with his pistol."
I just turned eighteen years old–little girl–how dare he…
"Bloody hell, Patrick. What are you thinking?" Kelly cried out.
"I'm thinking the Catholics won this fight. What are you thinking?" Patrick turned his back on the pair and whistled a jaunty tune as he strolled down the hill.
"Revenge will be sweet. Next Sunday…" Kelly shook his fist at the departing back of Casey's brother.
From what seemed like a great distance Casey heard the moan emanating from inside her battered and bruised body. She squished her eyes together, wishing her head didn't pound so fiercely, and the ground spin so wildly. "Who are you?" she whispered next to the man's chest while a soft spring breeze whispered against her heated face.
"Who am I?" the man chuckled. "Lass, you are the one who landed atop me. I should be inquiring into who you are? Only I know." His hands rested around her waist and squeezed as if he were testing–perhaps exploring–entirely inappropriate. Yet for some strange reason, Casey didn't mind the supposed to be unwanted attention. "And I don't think your brother should have left you here with the likes of me. I'm afraid I've landed myself in a dangerous predicament. And I'm thinkin' one that will be very hard to explain."
"Shame on you," Casey said. "You take liberties." The words stole her breath and she had to lean on Kelly once more in order to minimize the pounding of her head and the strange feelings emanating from where his hands were.
"I only want to remove you from–my–ah–person. And if I were taking liberties with you, lass, you'd be near swooning with passion."
"Ah, it seems you are a wee bit arrogant," she opened her eyes and gazed into the bluest eyes she'd ever seen. "The color of a summer sky," she whispered to him, still feeling woozy and not quite sure what he'd just told her–but thinking at the moment something besides the fall caused the earth to spin and the sky to tilt with a crazy, wild abandon.
"What is, lass?"
"Your eyes," she said, struggling against him and finally rolling to the side so she lay sprawled on the grass, staring into the sky she'd referred to a moment earlier and watching a white billowy cloud float past. "I'm not a little girl," she told him. "Don't ever call me that again."
"Then you want me to tell lies?" he asked with a lazy half-smile that stole Casey's heart and left her floundering. "I dinna think I can do that."
"It isn't a lie," she said, trying to sound indignant, yet frustrated beyond anything she'd ever felt before.
Highland Miracle
New York City 1895
"I dinnae ken what this contraption could be. I must be aff my heid," he said reverting back to the old language his great grandfather had spoken from time to time. Sean Michael Sterling walked around the tall red object he'd just come across in Central Park. His heart thundered with the realization this was an anomaly and for some reason…
"Is this a fire hydrant?" he murmured totally intrigued. Cautiously stepping closer, he rested a hand on the object of his fascination. The hackles on the back of his neck stood on end. The thing was smooth and touching it sent shivers up his spine. If this was a hydrant, it sure could hold a ton of water.
For some reason… his mind shifted and he thought time machine—Jules Verne—his favorite book.
He leaned in and smelled, nothing, just the scent of metal. He didn't recognize the odor. When he stepped back, he caught a hint of Daphne floating on the air. A slight breeze sifted through the meadow, filling his senses with new cut grass, wet dog, and something he couldn't quite identify.
Thoughts of pixie dust came to mind.
I am off my head.
A small dog ran around his heels, yipping and barking. "Crazy dog." Sean leaned down and rubbed the dog's ears. "You look like a bandit. Wonder where you came from? Go on, now. Where's your owner?"
The dog sat down, wagging his tale and stared at him. It seemed the animal was telling him he wasn't going anywhere. "Now, Bandit, you need to go find your owner. I'm not one to be taking you home with me. Don't think my landlord would appreciate a dog in the building."
Strangely he was the only one in the park, or at least this corner of it. The sound of carriages could be heard in the distance. He suddenly felt isolated and completely alone. The damn thing compelled him to know more, seeming to reach out to him and beckon. An eerie keening started in the back of his mind and grew. The impulse to explore overwhelmed him. Even as he looked at the machine, his mind cautioned him to stay away, but his curiosity sprouted to an uncanny level.
A little voice in the back of his head urged him forward. Damn, but he needed to go home. His stomach growled complaining of hours without food. His eyes burned from the fire he'd just been on and his body cried out for sleep. Rubbing his sooty hair, he muttered to himself.
But thoughts of what was inside this monster contraption intrigued him more than the demands of his body.
Walking around the monstrosity, he kept his hand on the metal all the while looking for an opening. What shocked him and what was more surprising was the fact that little Bandit found the opening for him.
Bandit sat down in front of what appeared to be a door and stared at him again. It seemed to Sean that Bandit dared him to see what was inside. Well, he'd never been a man who could resist a straight on challenge.
Caution…
He inhaled a long and very deep breath. Closing his eyes he counted to ten. Even though the day was cool, sweat beaded on his forehead. He walked into fires, lifted burning timber, and he'd never really been afraid a day in his life.
This contrivance terrified him.
Nerves snapping, Sean pushed on the door. It slid sideways, revealing a dark abyss. He stepped back. Fear raced through him, caution cried out to him but he ignored all warnings.
Curiosity propelled him forward.
Bandit ran inside. "No," Sean cried out. "Dinnae….
Silence chilled him to the bone and a cold sweat broke out on his body. Birds chirped in nearby trees.
All seemed right with the world—except for this machine.
"Come here." He crouched down and called to Bandit. Bandit didn't budge. Instead the dog cocked his head to one side and seemed to be saying. You come here.
Sean wavered then stood his ground. Bandit seemed to like it in the machine.
And yet…
An extraordary golden dust swirled around him, warming him like a golden rain.
Also by Christine Young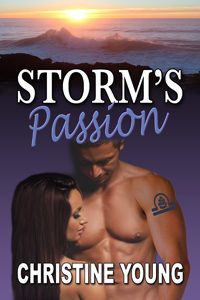 Buy at: Amazon, Barnes and Noble
REVIEW:
Reviewed by Kinky Vanilla
http://www.kinkyvanillaromance.blogspot.com/
By all accounts, Storm Graham is brazen, strong-willed, and beautiful. She despises her father and loves her horses. So when Storm discovers that her father has signed a contract that forces her (and her horses) into the hands of one of the region's wealthiest and most despicable bachelors, she does not take it lying down.
After evaluating her options, she determines that her best bet is to convince the region's wealthiest bachelor to marry her. She believes that Hadden Johnston's money and power can protect her from the evil clutches of Charles Robertson (and his father). In return, she can offer her interest in the family's horse and brewery businesses. The problem? Hadden and Storm are merely business acquaintances and neither is really interested in getting married.
Desperate times call for desperate measures. Storm has nothing to lose by proposing marriage. Well, maybe a little pride. And Hadden knows all too well the ugliness that lurks in Charles' mind. How could he not try to intervene on her behalf? Combine that with the sparks of attraction between Hadden and Storm, and you'll end up with a marriage of convenience that had me wanting my own Hadden.
"This is an outrageous game you're playing Miss Graham. But I do understand how loathsome marrying Charles would be. I wouldn't wish it on my best friend and for some reason I've a need to protect you." – Hadden Johnston
Rich, powerful, and cruel, Charles is also not one to take things lying down…
Storm's Passion is a fast-paced, easy-to-read novel. I read it over a weekend. Luckily for us readers, the marriage turns out to be more than Hadden and Storm bargained for. They have a chemistry that is fun to read and watch grow. Storm isn't the stereotypical damsel in distress. She is a heroine that you really get behind and pull for as the story plays out.
I think that Storm's Passion is a great choice for people who enjoy historical romance stories. I must admit, I was a little thrown off by the book cover at first. It didn't really scream historical romance to me. But don't let all that hunkiness fool you. The book is set in England in 1818.
I look forward to reading more of Christine Young's work.
BLURB
SHE MADE A PROPOSAL…
Life strikes Storm Graham a shattering blow when she learns her father has bartered her to a man she detests. Storm is beautiful, self–assured and fiercely independent, and refuses to be a pawn in her father's schemes, yet she can find no way out of this bargain made in hell. Going on the offensive she asks the wealthiest man on the eastern coast of England to marry her, never believing she might fall in love.
HE TRIED TO REFUSE…
For Hadden Johnston life has provided everything he ever wanted, including a sanctuary for homeless children. He is wealthy, handsome and happily unencumbered…until stunning Storm Graham marches into his life and proposes a marriage of convenience. Yet this type of marriage to a woman who inflames his senses is far from acceptable. If he's going to be tied down, he will move heaven and earth to have this woman warming his bed.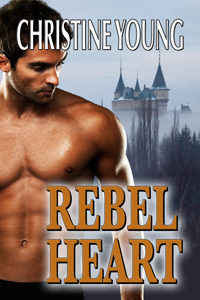 Buy at Amazon
HER REBEL SPIRIT DEFIED HIS OUTSIDERS SOUL…
She was velvet and silk, eyes the color of a summer storm. Victoria DeMontville, because of a promise and a codicil to her father's will, was forced to marry one man to protect her from another. She fought Cameron Savage with a fierce passion. But to hold on to her genetic research and find a cure for the deadly Signe virus, she must pretend to love the adversary at her door, who arrived with weapons of fire to melt her icy heart…
HIS OUTSIDERS TOUCH IGNITED RAGING PASSIONS…
He wore a mask, disguised as the Phantom, a true legend come to life. Even as war and debate over new genetic research engulfed them all, he would find his greatest adversary in the beauty who'd branded him an outsider and barbarian, the woman he was born to possess, his soul mate.