Daughter of Aithne: Karin Rita Gastreich
Please welcome Karin Rita Gastreich author of Daughter of Aithne
Karin Rita Gastreich author of Daughter of Aithne will be awarding a $15 Amazon or Barnes and Noble GC to a randomly drawn winner via rafflecopter during the tour.

Daughter of Aithne
by Karin Rita Gastreich
~~~~~~~~~~~~~
GENRE:  fantasy
~~~~~~~~~~~~~
INTERVIEW:
What or who inspired you to start writing?
I've been telling stories ever since I can remember. I wrote my first story in grade school, based on a dream I had. During a brief period in high school, I considered becoming a professional writer, but turned my attention to the sciences instead. Writing has been an important past time for me throughout the years, but it wasn't until the fall of 2005 that I began work on what would become my first full-length novel, Eolyn.
As far as your writing goes, what are your future plans?
To keep writing as long as I can! Of course, I'd love to land a big contract and score that best seller that would allow me to write full time, but I'm pretty well resigned to the fact that writing will always be an enjoyable "extra" for me, rather than the center of my professional life. I'm very lucky to have a full-time job that I enjoy and that not only pays the bills, but also subsidizes my writing.
If you were the casting director for the film version of your novel, who would play your leading roles?
I would cast Emma Watson as Eolyn, the magical Queen of Moisehén, and Eleanor Tomlinson as her rival, the elegant and formidable Taesara of Roenfyn. Aidan Turner would be a good fit for the role of Eolyn's true love and partner in magic, King Akmael; and I envision Tom Hiddleston as the dangerous, enigmatic, and irresistibly sexy Mage Corey. Bryan Terrell Clark would be perfect as the charismatic warrior and all-around heart throb, Prince Savegre, Taesara's ally in the battle for the throne of Moisehén.
Do you belong to a critique group? If so how does this help or hinder your writing?
Yes! I've connected to several critique groups over the years, and also have critique partners outside of my formal groups. Critique groups are essential for any writer who wants to hone their craft. This is the number one recommendation I have for all aspiring writers: Join a critique group.
When did you first decide to submit your work? Please tell us what or who encouraged you to take this big step?
When I finished the first draft of my novel Eolyn, I took it to a critique group. I received a lot of tough love from that group during the revision process, but it was through their pointed criticism and unceasing encouragement that I eventually decided to begin querying for the novel. I signed my first contract with Hadley Rille Books, which released the first edition of Eolyn in 2011.
Do you outline your books or just start writing?
Both. I generally know where a story is going before I sit down to start it, but I approach the outline with flexibility. Sometimes a lot changes between my original vision for the novel and the final product – characters tend to take on a life of their own and lead me to surprising places!
Do you have any hobbies and does the knowledge you've gained from these carry over into your characters or the plot of your books?
One of my favorite hobbies is dance. I studied classical dance as a girl, kept up modern dance into my adulthood, and now I study flamenco. In Eolyn's world, dance is a form of magic; it plays a central role in Eolyn's journey, especially during the first book of the trilogy.
Have you started your next project? If so, can you share a little bit about your book?
Now that I've completed The Silver Web, I'm taking a break from high fantasy to write contemporary fantasy. My first contemporary fantasy novel, The Hunting Grounds, is based in my home town of Kansas City. The story features a forty-something small business owner, Helen, who becomes embroiled in a battle between supernatural beings that fight each other for dominion over human souls.
Can you tell us a little about the black moment in your book?
One of the darkest moments of the book is when the Naether Demons escape their underworld prison and attack Eolyn and her family. Eolyn, who has been stripped of her magical abilities, must face the demons and protect her children. She is alone, and cannot use her magic to fend them off. It's a hair-raising sequence of scenes, and was cited by Kirkus Reviews as one of the best moments in the book.
Can you tell us a little bit about what it was like to write a series.
It was a surprise! I wrote the first novel, Eolyn, as a stand-alone. It wasn't until I signed the contract with Hadley Rille Books that I started getting ideas for subsequent novels. Interestingly, now that I've finished the third novel of the trilogy, I don't understand how I didn't see where all this was going from the very beginning! Daughter of Aithne brings all the conflicts of Eolyn full-circle. It's an appropriate resolution to the saga of the Kingdom of Moisehén. In many ways, Daughter of Aithne is the book I've always wanted to write.
Anything else you might want to add?
The Silver Web has been a wonderful journey for me as an author, and I hope it's a wonderful journey for all my readers as well. If you pick up one of my books, I'd love to hear your thoughts on Eolyn and how her story resonates with you. Visit me at my blog to chat, or leave a review on Goodreads or Amazon. Happy reading!
BLURB:
Betrayed by her own prodigy, Eolyn stands accused of treason. As power-hungry nobles dismantle her life's work and honor, the desperate queen forges a risky alliance with the ruthless and cunning Mage Corey. Determined to defend her son's claim to the throne of the Mage King, Eolyn prepares for her last and greatest battle, this time against her own sisters in magic.
Across the Furma River, Taesara of Roenfyn is drawn out of seclusion and into an ever-more vicious game of intrigue and war. Subject to the schemes of a shrewd uncle and the mysterious ambitions of the wizards of Galia, Taesara struggles to assert her own destiny, even as she takes up arms to defend her daughter's inheritance.
In the climactic finale to The Silver Web trilogy, threads of love, honor, betrayal, and vengeance culminate in a violent conflict between powerful women, opposed to each other yet destined to shatter a thousand-year cycle of war.
"An enticing and elegant series finale, filled with magic and turmoil." -KIRKUS REVIEWS
~~~~~~~~~~~~~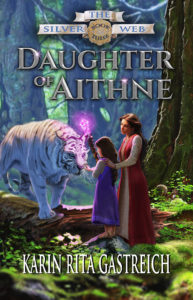 EXCERPT:
Taesara stiffened as Penamor took her chin in his fingers and subjected her to cold inspection. After a moment, his frown deepened and he shook his head. "Only the Sisters of the Poor could take a woman at the height of her flower and turn her into a dried-up weed."
Taesara bristled. "There is no place for vanity within these walls."
"Apparently not. They've made you skinny and sallow. Though it is nothing, I'll wager, that a bit of sun and some proper food cannot remedy. What are these rags they dress you in?"
She stepped away, clenching her jaw. "This is all I need. All anyone needs, to live at peace in this world."
Penamor snorted. "Indeed."
"Why are you here?"
"I've come to fetch you home."
"This is my home."
"This was your temporary refuge. A foul place, but one of your choosing. We were generous enough to let you stay, first your father and then I, as we put the outside world in order. Now it is time for you to return."
"I am not going back."
"Oh, but I think you will." Penamor spoke with an odd tone, at once menacing and full of promise. "War is at hand, and you will be the one to lead it."
Taesara forced a laugh. "You know I will have no part of it. Eliasara would die at their hands if we so much as—"
"They do not have Eliasara," he said. "We do."
Shadows flashed through Taesara's vision. She stumbled and caught hold of the back of a chair. A chasm opened inside her heart, swallowing the vines and trees with which she had concealed her love and pain during all these years. The bitter anguish of the day she was separated from Eliasara returned full force.
"Where is she? Where is my daughter?"
~~~~~~~~~~~~~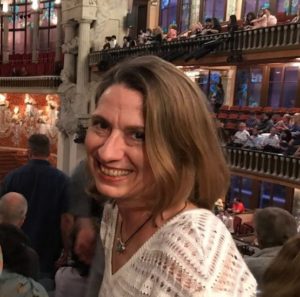 AUTHOR Bio and Links:
Karin Rita Gastreich writes stories of ordinary women and the extraordinary paths they choose. She lives in Kansas City, Missouri, where she is part of the biology faculty at Avila University. An ecologist by vocation, Karin has wandered forests and wildlands all her life. Her pastimes include camping, hiking, music, and flamenco dance. In addition to THE SILVER WEB trilogy, Karin has published short stories in World Jumping, Zahir, Adventures for the Average Woman, and 69 Flavors of Paranoia. She is a recipient of the Spring 2011 Andrews Forest Writer's Residency.
Website: http://krgastreich.com
Twitter: @EolynChronicles
Facebook: https://www.facebook.com/Eolyn-110814625640244/
Purchase link for EOLYN, Book One of THE SILVER WEB: http://www.amazon.com/Eolyn-Silver-Web-Book-1-ebook/dp/B01B8F4G50/
Purchase link for SWORD OF SHADOWS, Book Two of THE SILVER WEB: https://www.amazon.com/Sword-Shadows-Silver-Web-Book-ebook/dp/B01G5L1GEG/
Purchase link for DAUGHTER OF AITHNE, Book Three of THE SILVER WEB: https://www.amazon.com/Daughter-Aithne-Silver-Web-Book-ebook/dp/B06WCZYRNW/
~~~~~~~~~~~~~
GIVEAWAY INFORMATION and RAFFLECOPTER CODE:
Karin Rita Gastreich will be awarding a $15 Amazon or Barnes and Noble GC to a randomly drawn winner via rafflecopter during the tour.