Sweet Talkin' Sugar: Shifters
In Sweet Talkin' Sugar: Lyonesse McKenna, was dreaming or was she? Her family of shapeshiters believed in soul mates. She'd always been skeptical yet she couldn't help but question the way her heart sped when he looked at her.
Sweet Talkin' Sugar by Christine Young is a Paranormal Romance.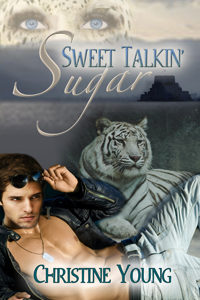 Buy at: Amazon
EXCERPT: Sweet Talkin' Sugar
In observation mode, he walked through the casino, hands in his pockets, listening and watching, his heart racing. Before the blackjack table at the end of the row, he paused to reflect and decide on a course of action. The air inside was sultry, hot and smoke-filled. He swept one hand through his damp hair, fresh from a summer rain. He forced his mind from the heat and the rancid smell of cigarettes, and with single-minded focus, stared at the table and the cards lying innocuously on the green felt.
The picture of cool calmness, she sat on a bar stool, a drink in hand and cards in the other, her legs crossed provocatively. Her daringly cut emerald V-neck dress didn't leave much to the imagination, but he forced his gaze to the man beyond who stared at her as if he owned her. Every hair on the back of his neck stood on end and a chill slivered down his spine, nerves on edge, muscles tensed. His brows furrowed when the man turned his attention, for one brief moment, his way.
The dealer gave her another card and she tipped one corner up to look at it then let it go. Her body language spoke volumes to him and he wondered if the dealer noticed too. The poker face she so obviously tried for was something she'd never possess.
Deacon McClain paused before settling on a bar stool across the table from her. He waited for the last hand to finish before placing his chips in front of him and nodding to the dealer he was ready to play. His fingers closed around his glass of whiskey as his heart thundered in his chest. She glanced his way, inquisitively cocking her head to one side before slanting him a sexy-as-hell-grin.
The grin sent a message that nearly catapulted him from his seat. Inhaling a deep breath to calm his splintering nerves, he turned his attention back to the cards he'd just been dealt. Not good, not good at all, he motioned for another, then sat back and gazed at Lyonesse. Lyn McKenna, the woman he'd been sent to find and bring home. He'd never believed this gig to be an easy one, but now he felt sure this might be his most difficult assignment of all. Her easy grin sent his heart into a tailspin and her long shapely legs were hard to ignore. What would happen if she gave him her full attention?
He'd lose all sense of perspective and balance.
ALSO BY CHRISTINE YOUNG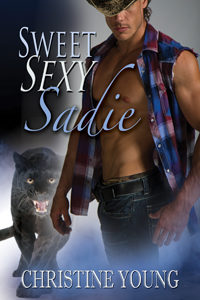 Buy at Amazon
REVIEW:
Carin for My Reading Obsession
Sweet Sexy Sadie is a quick read with a fun plot line, Sadie is researching the migration of butterflies for her thesis she meets Brody when her car overheats in the desert pretty soon the car isn't the only thing overheating. Sadie also has a stalker of a paranormal variety.
The action happens quick and without a lot of back story to have this come out novella length. I enjoyed the chemistry that is immediate between Brody and Sadie. I liked the paranormal element to her stalker and the bond that Sadie and Brody share to overcome the trials in their path to happiness.
This time of year with the kids in school you have lots of chances to sit and wait this is the perfect length book for those times and you can get in a fun love story while you are at it.
BLURB:
From the first time Sadie's eyes met those of Brody McKenna in the hot Sierra Madre Mountains, theirs was a potent attraction—not gentle, slow, and easy, but hot, hard, and all-consuming. The daughter of a dysfunctional family, Sadie had dreams no man could wrench from her with hot sex and an all-consuming passion. She'd challenge this alpha male with all the strength she possessed. But her red hair, fiery temperament, and indomitable spirit obsessed Brody…and he knew he had to find a way to show her he was more than he appeared and convince her to make a life with him.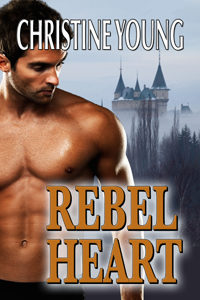 Buy at Amazon
Annie for Euro Reviews writes:
Rebel Heart is a well-written futuristic novel of a time that very possibly could come to pass, when viral plagues have laid the planet waste, and life is lived either in the sterile confines of domed habitats, or as pariahs in the outside wilderness. The world-building is excellent, vivid, and true-to-life. The characters will quickly catch and hold the reader's sympathies. The plot is quick, and takes time to examine many valid social, economic, class, and political issues as well. Christine Young delivers a winner which will capture the interest of futuristic/science fiction fans as well as the general reader.
Jasmina Vallombrosa for TCM Reviews writes:
Filled with drama and suspense, this book will draw you into the mysteries of science fiction. I was pleasantly surprised by Ms. Young's storytelling talents as she wove not only a wonderful futuristic adventure, but also that of a passionate love story. I loved the main characters as they came to life on the pages. The plot was quite suspenseful and deliciously entertaining. As a result, I had no choice but to keep flipping the pages as I raced to the end. Bravo Ms.Young for such an extraordinary book from cover to cover!
BLURB: Rebel Heart
HER REBEL SPIRIT DEFIED HIS OUTSIDERS SOUL…
She was velvet and silk, eyes the color of a summer storm. Victoria DeMontville, because of a promise and a codicil to her father's will, was forced to marry one man to protect her from another. She fought Cameron Savage with a fierce passion. But to hold on to her genetic research and find a cure for the deadly Signe virus, she must pretend to love the adversary at her door, who arrived with weapons of fire to melt her icy heart…
HIS OUTSIDERS TOUCH IGNITED RAGING PASSIONS…
He wore a mask, disguised as the Phantom, a true legend come to life. Even as war and debate over new genetic research engulfed them all, he would find his greatest adversary in the beauty who'd branded him an outsider and barbarian, the woman he was born to possess, his soul mate.