The Wager: Christine Young
In The Wager: Amorica Hepburn was sent to London to find a husband. However, finding a man was the last item on her agenda.
The Wager an Historical Romance is the second book in the Twelve Dancing Princesses Series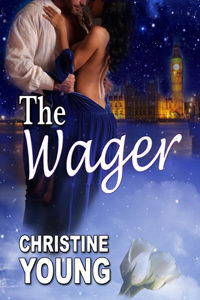 Buy at Amazon Barnes & Noble
EXCERPT: The Wager
Coast of England 1816
"It's a bloody cursed day." Damian Andrews swept the child into his arms and waded through the pounding surf to the beach. He braced himself against the out-going current then sloshed through the crashing waves. Salt spray clung to the wind, stinging his nostrils.
Damian turned. Beneath his ribs, his heart pounded the cadence hard and fast. He swore again as he watched the captain shout orders to his crew. The French brandy that was supposed to have arrived this night would have to wait.
Standing in the longboat, the captain of the ship that brought the brandy as well as the political refugees from the Germanies held a torch aloft–the only light in the vast darkness. "Hurry, laddie. We have human cargo tonight and the tide is changing."
A little girl whimpered.
Damian pulled her into his arms, bent on protecting her at all cost.
"It's all right. You will all be together soon." The smuggling of French brandy was a cover for the cause that meant so much to him. Religious and political refugees–at times it seemed they came in droves. All were seeking a better life. A life of freedom. "Your mother is coming as well as your baby brother. You will all be safe."
Damian looked to the captain. "The father?" he queried.
"He didn't come with his family. He said he had one more thing to do. You must hurry."
The child leaned into Damian, her little face nuzzling his shoulder, her silent sobs gut-wrenching. He pulled her closer, cursing at the elements as well as mankind and wishing he could find a way to shield the tiny child from all harm. He knew the feat to be impossible. The little girl touched a place in his heart and for a moment filled that broken space with light. Yes, the mother would be with her children, but why had the father stayed where his life was in peril? He had learned long ago one could come to regret rash actions. And he'd also learned one could lose all chance at love in one instant.
Lord, but he'd lost his concentration and in losing that, he could well lose his edge.
No secrets– no lies. The thought haunted him.
His life was a lie, but he would change nothing until his penance was paid. A constant drizzle soaked him to the skin. The wind sent goose bumps rising on his arms. He reached shore and handed the girl over to Aric Lakeland, a trusted friend and accomplice in this night's work, then turned and walked back to the longboat. Her baby brother as well as her mother waited.
He had never meant to get involved. It was the greatest of ironies that he was here now. He'd been a man who loved his family and his home.
He'd been content but that seemed years ago–a life time.
It felt like centuries.
The captain spoke, his voice hushed. "Hurry, now, Master Damian.
It's the watch. They are due to ride by here any time now. The patrols have doubled these last few weeks. I fear it's not as safe as it used to be." The captain handed over the baby wrapped in blankets. Damian stared at the child. The babe couldn't be a year old. The child didn't make a sound, not even a whimper.
This was injustice, a travesty. He looked at the mother. "Can you make it on your own?" He prayed the fragile lady standing before him had more courage than she appeared to have. She nodded and with the captain's help, she stepped into the ocean, struggling for balance. Yet her shoulders were squared and her spine stiff.
As soon as the captain placed the babe in Damian's arms and the three of them were headed for land, he gave orders. Two sailors rowed out to sea, moving toward the black ship that rose and fell on the distant waves.
On a cliff above, the dark silhouette of a third man, Ryder McClaren, could be seen for a brief moment. He waved his arms then disappeared into the shadows once more.
"Hurry," Damian bade the mother, his hand resting on the small of her back, urging her forward.
ALSO BY CHRISTINE YOUNG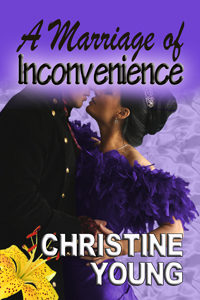 Buy at Amazon: Barnes & Noble:
A REGAL BEAUTY
When the duchess decides to wed her to a wastrel and a fop, Ravyn Grahm takes matters into her own hands and declares her engagement to another man. Instead of fessing up and telling her great aunt what she has done, she goes through with the pretense. Aric Lakeland is the bastard son of an earl and has a dangerous reputation. But Ravyn is willing to do most anything to keep the duchess from discovering the lie.
A DEVIL-MAY-CARE SMUGGLER
He'd bought land in America, looking to put down roots and end his life of adventure, but Aric Lakeland got more than he bargained for when he encountered a beautiful heiress who made a promise she didn't want to keep. But the promise could not be undone and standing between them were more obstacles than either ever dreamed. Aric had made plans to spend the rest of his life in America and that was at odds with Ravyn's plan of living in England and running her father's estate. Now, he'll have to choose between his dreams and the woman he loves more than life.
CHECK OUT OTHER BOOKS BY CHRISTINE YOUNG