Intimate Journeys: SS Hampton Sr.
Please welcome SS Hampton Sr. author of Intimate Journeys
The author of Intimate Journeys will be awarding a $10 Amazon or B/N GC to a randomly drawn winner via rafflecopter during the tour.

Intimate Journeys
by SS Hampton Sr
~~~~~~~~~~~~~
GENRE: Erotic Sci-Fi Fantasy Romance
~~~~~~~~~~~~~
BLURB:
The most intimate journeys, though they are polar opposites, involve the unparalleled pleasures of sex and the inevitable unknown of death. Both are an experience unlike anything else: one is sought by everyone, while the other is avoided by everyone – for as long as they can. Sometimes these polar opposites complement each other.
~~~~~~~~~~~~~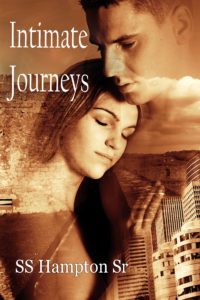 EXCERPTS (Exclusive Excerpt):
"No. 55 Apple Cherry Court," Intimate Journeys
The world was in transition between night and day. In the west, the high fleecy clouds blazed in deep hues of red, orange, yellow, and purple. To the east, the sky darkened from deep blue to purple and finally black. The first stars twinkled merrily as the full yellow moon rose above the horizon.
The desert heat gave way to the cool temperatures of a fast approaching winter. In the desert, fall and spring were narrow interludes between summer and winter. For those used to a clime with discernible seasons, the desert was a sometimes disorienting world.
With cooler afternoons and evenings, the oily smell of BBQ smoke drifted through the townhouse complex, and the laughter of children started earlier and ended later. The adults who normally sought shelter within their townhouses gathered around BBQ grills, and walked or jogged along a shaded, sandy jogging path that ran the length of the complex.
Rather than the palm trees so prevalent in the region, oak, pine and ash trees bordered the path. Small African umbrella trees stood scattered among the larger trees and neatly trimmed flowering shrubbery along the edge of the path. A narrow, shallow creek that children loved to play in paralleled the path. The water came from a bubbling fountain at the south end of the complex and flowed down the sloping ground to a small, rocky pool within a small grove at the north end.
The jogging path was empty except for a petite woman in gray sweat pants and a sleeveless white t-shirt…
~~~~~~~~~~~~~
AUTHOR Bio and Links:
Stan Hampton, Sr. is a full-blood Choctaw of the Choctaw Nation of Oklahoma, a divorced grandfather to 13 grandchildren, and a published author, photographer and photojournalist. He retired in 2013 from the Nevada Army National Guard with the rank of Sergeant First Class; he previously served in the active duty Army, and the Army Individual Ready Reserve (mobilized for the Persian Gulf War). He enlisted in the Nevada Army National Guard in October 2004, after which he was mobilized for Federal active duty for almost three years. Hampton is a veteran of Operations Noble Eagle and Iraqi Freedom, with deployment to northern Kuwait and several convoy security missions into Iraq.
He has had two solo photographic exhibitions and curated a multi-media exhibit. His writings have appeared as stand-alone stories and in anthologies from Dark Opus Press, Edge Science Fiction & Fantasy, Melange Books, Musa Publishing, MuseItUp Publishing, Ravenous Romance, and in Horror Bound Magazine, The Harrow, and River Walk Journal, among others.
As of April 2014, after being in a 2-year Veterans Administration program for Homeless Veterans, Hampton is officially no longer a homeless Iraq War veteran.
In May 2014 he graduated from the College of Southern Nevada with an Associate of Applied Science Degree in Photography – Commercial Photography Emphasis. He has been studying at the University of Nevada-Las Vegas with in a double major in Art and English. He recently returned from spending a cold, rainy Spring 2017 semester studying at a university in southwestern France in the shadow of the Pyrenees Mountains.
After 16 years of desert in the American Southwest, and Southwest Asia, he still misses the Rocky Mountains, yellow aspens in the fall, running rivers, and a warm fireplace during snowy winters.
Hampton can be found at:
Barnes and Noble
http://www.barnesandnoble.com/w/sharing-rachel-ss-hampton-sr/1120349766?ean=2940046334791
Dark Opus Press
https://www.createspace.com/3685965
Edge Science Fiction & Fantasy Publishing
http://www.edgewebsite.com/books/dansemacabre/dansemacabre.html
Melange Books
http://www.melange-books.com/authors/sshampton/index.html
MuseItUp Publishing
https://museituppublishing.com/bookstore/index.php/museitup/mainstream/better-than-a-rabbit-s-foot-detail
Amazon.com Author Page
http://www.amazon.com/SS-Hampton-Sr/e/B00BJ9EVKQ
Amazon.com. UK Author Page
http://www.amazon.co.uk/SS-Hampton-Sr/e/B00BJ9EVKQ
Goodreads Author Page
http://www.goodreads.com/author/show/6888342.S_S_Hampton_Sr_
~~~~~~~~~~~~~
GIVEAWAY INFORMATION and RAFFLECOPTER CODE
The author will be awarding a $10 Amazon or B/N GC to a randomly drawn winner via rafflecopter during the tour.
http://www.rafflecopter.com/rafl/display/28e4345f2481