Author Tour: Anna Ellis
Please welcome Anna Ellis
Anna Ellis will be awarding a $50 Amazon or B/N GC to a randomly drawn winner via rafflecopter during the tour.
Author Tour: Anna Ellis
~~~~~~~~~~~~~
GENRE: Erotic Romance
~~~~~~~~~~~~~
INETERVIEW:
What or who inspired you to start writing?
I've always written, even when I was a little girl. I remember my first story about a bunny trying to cross the road. I think the bunny got hit, so it didn't have a happy ending! But I kept my writing to myself, which a lot of writers do, until I was in my last year of high school and my Writer's Craft teacher gave me a 49/50 on my story. It was then that I thought that maybe this was something I was good at, as well as being something that I loved to do. I'll never forget Mr. Clarke for giving me that push.
How did you come up with ideas for your books?
Honestly, I have no idea. They really just come to me, usually in the shower, or when I'm driving by myself, or when I'm running. And usually when I'm in the middle of another project.
What expertise did you bring to your writing?
Considering what I write about, I'm not really sure how to answer that! I'll just say I have a very active imagination and leave it at that! 😉
As far as your writing goes, what are your future plans?
To keep writing until I run out of ideas. I have plans for the rest of my Adults Only series, and I want to finish the third book on my Office Plays series, which should have been finished a long time ago. And then I'd like to go back to writing something like my Husbands and Wives series. That was so much fun to write.
If you could be one of the characters from any of your books, who would it be and why?
Jacey. Definitely Jacey, because she has so much freedom to be adventurous. But that would mean my hubby would be Dominic and I don't think he'd go for that!
What is the best and worst advice you ever received? (regarding writing or publishing)
The worst is – write what you know. And get books out as quick as you can.
I don't agree with either of those. I wrote a series about swingers, which honestly, I had no personal experience of. But I did it, and it worked out pretty well.
The best piece of advice it, hire an editor and a good one. And I think authors have to take their time with books, to make sure they are the best they can be.
Do you outline your books or just start writing?
I usually have an idea what happens in the books, but I don't use an outline, other than the first few chapters. I let my characters do what they like, which are often a lot different than what my idea was.
Do you have an all time favorite book?
I should say something literary, like Pride and Prejudice. I do love Jane Austen, but I will say my all-time favourite book is by a British author named Jilly Cooper. She writes the most awesome smut! Rivals is my favourite one of her books.
Have you started your next project? If so, can you share a little bit about your book?
Right now I have a few project in the works; the second in the Adults Only series. It's called Room Service and I'll be having a few of the character from my Office Plays series visiting Morena and Lorde. I'll head into the third book after that. But as well, I write under the name Holly Kerr and I've got a few things going on.
Who is your favorite actor and actress?
Good question. I'm a big TV/movie buff so that's a tough question for me. For the actor, I'll got with Harrison Ford, because I love him, and Mark Wahlberg, who I have a huge crush on! And for actress, I'm going to say Tea Leoni, because I love her in Madam Secretary, and I also have a bit of a girl crush on her!
What is your favorite reality show?
Survivor. It's been going on for years and it's still so, so good!
Can you tell us a little bit about what it was like to write a series.
I really like writing a series. It's fun to keep peeling back layers of the characters, finding out more and more about them. You start out with a character and you think you know them, but as the books get going, you find out more about them. But it is hard to keep it fresh, to keep each book different and separate. Plus, I find it hard to write the second books. I always find the second book in a series is my least favourite! It's a lot of pressure!
Anything else you might want to add?
I want to say thank you for featuring me. It's been fun!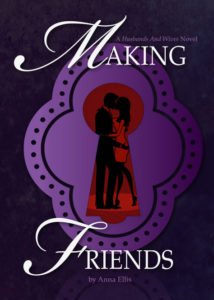 Blurb for Husbands and Wives series
Do you have naughty neighbours?
Happily married couple Jacey and Dominic had no idea they were moving into a neighbourhood where sharing is caring and wives swap husbands more often than a cup of sugar.
They had no idea living in the suburbs would be so exciting.
The Husbands and Wives series follows Jacey and Dominic as they learn to navigate the slippery sidewalks of swinging suburban sex-apades.
Being a good neighbour has never been so much fun!
Excerpt for Making Friends, book one of Husbands and Wives series.
I wonder what would happen if I picked Dominic's keys. I could just say I want to have sex with my husband, rather than someone I've just met. But I'm here, and there are three attractive men willing and wanting to have sex with me. I have to admit, it's a huge turn-on. And right now, Jackson and Colin and Mahak are looking at me expectantly, like I'm to make a choice.
I can't choose.
How can I possibly choose?
Mahak smiles at me, his eyes doing the slow wander down my body, even though he's sitting beside Melissa. There's really no choice. If the way he's looking at me is making the slow pulse between my legs beat insistently, then I want to see what it's like when he touches me.
I stand up, leaving the safety of Dominic's side. He gives my hand a squeeze but doesn't say anything. I wonder if he's as nervous as I am. I wonder if he's regretting this whole idea.
I wonder if he's excited, too?
I do a slow walk to Tia standing in the middle of the room and she smiles appreciatively at me. I'm really doing this. How can I be doing this? And again – why?
Why not?
Tia deliberately pulls out a set of keys with a smile at Mahak. For some reason she wants me to have sex with him. I'm not about to complain.
Mahak wraps his arms around me from behind, nuzzling his face into my neck. His beard is soft and so are his lips as he begins to kiss the sensitive skin. I can feel his tongue against my ear.
"I can't wait to taste all of you," he breathes.
~~~~~~~~~~~~~
AUTHOR Bio and Links:
Anna Ellis likes to writes about happily married couples having sex with other happily married couples. There's no werewolves or vampires, shapeshifters or tentacles involved – just good, old-fashioned sex. And maybe a little tying up. Or a spanking or two.
In her Husbands and Wives series, follow new neighbours Jacey and Dominic as they learn to navigate the slippery sidewalks of suburban swinger lifestyle. Being a good neighbour has never been so much fun!
Her Office Plays series take you to the workplace to meet the most excitable group of office employees you would ever want to work with. They give coffee breaks a new meaning. Look for the third and final book in the series, Love After Hours, coming soon.
The Touch series is an unconventional love story about a woman who falls in love with a man…and his wife. All nine books are available now.
And her latest series, Adults Only brings back favourite characters from her earlier books. In Shared Accommodations, catch up with those sexy swingers Jacey and Dominic as they visit Mrs. Robinson's B & B for a weekend of fun!
website https://annaellisauthor.wordpress.com/
Facebook https://www.facebook.com/AnnaEllisauthor/?ref=bookmarks
Twitter https://twitter.com/hollykerrauthor
Amazon Author Page https://www.amazon.com/Anna-Ellis/e/B00FF6AV8U/
~~~~~~~~~~~~~
GIVEAWAY INFORMATION and RAFFLECOPTER CODE
Anna will be awarding a $50 Amazon or B/N GC to a randomly drawn winner via rafflecopter during the tour.
http://www.rafflecopter.com/rafl/display/28e4345f2498