Sweet Sexy Sadie: Christine Young
In Sweet Sexy Sadie: From the first time Sadie's eyes met those of Brody McKenna in the hot Sierra Madre Mountains, theirs was a potent attraction—not gentle, slow, and easy, but hot, hard, and all-consuming.
Sweet Sexy Sadie is a Paranormal Romance with hot alpha male shape shifters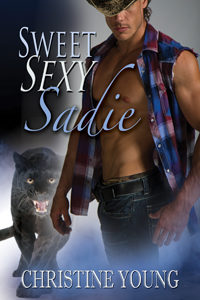 Buy at Amazon
REVIEW: Sweet Sexy Sadie
Carin for My Reading Obsession
Sweet Sexy Sadie is a quick read with a fun plot line, Sadie is researching the migration of butterflies for her thesis she meets Brody when her car overheats in the desert pretty soon the car isn't the only thing overheating. Sadie also has a stalker of a paranormal variety.
The action happens quick and without a lot of back story to have this come out novella length. I enjoyed the chemistry that is immediate between Brody and Sadie. I liked the paranormal element to her stalker and the bond that Sadie and Brody share to overcome the trials in their path to happiness.
This time of year with the kids in school you have lots of chances to sit and wait this is the perfect length book for those times and you can get in a fun love story while you are at it.
EXCERPT: Sweet Sexy Sadie
Sadie didn't know what to make of Brody. Exceptionally handsome and charismatic, he'd made her smile the first time she saw him sauntering down the road toward her. Good lord, but he looked as if he owned the world. Tall, tanned from the sun, amber-green eyes that sparkled as if he saw some light humor in everything. He was wiry and sleek; a quickness about him surprised her. His blue-black hair was tied back with a leather thong, his chin angular.
Perhaps he did own this part of the Sierra Madres. His family seemed to own most of this town.
Her research had brought her to this place, Cactus Junction. Now the prospect of getting to know an interesting man would be an added perk. In the bathroom she slipped out of her clothes and into a tepid shower. A few minutes later she emerged squeaky clean and ready for the next part of her adventure.
Unpacking her clothes and taking out her laptop, she opened it. What do explosive experts do? Hmmm….
Why, they blow up things. What would he blow up around here?
Lord but that sounded crazy to her. Before typing in the necessary info to pull something up on Google, she leaned back, relaxing into her chair. The wallpaper was outdated, and the old fan complimented the air conditioning. She realized she liked the atmosphere.
Enough musing. Mining in the Sierra Madres. Let's see, it says here they mined silver as early as 1521.
Sadie scrolled down the paper. Ok… Montezuma, in 1492, was already drinking hot chocolate from goblets made of gold. Maybe she should be studying this instead of her research thesis. The migration of butterflies. Once she'd thought the topic was romantic. Chasing after butterflies…
So what are they doing now? Junior drilling companies… She wondered if that was what the McKenna Clan was, a junior company. How soon was too soon to ask? Probably not on their first dinner together. Knowledge brought power and she firmly believed everything happened for a reason. Then her chance encounter in this place was not a coincidence.
This says the companies are drilling to find the ore. So… Do they still need explosives? If not, he didn't do much for his day job. Perhaps the family had millions stashed away. At first glance this hotel was theirs and Brody had told her the land this town sat on belonged to them. But millions in the Caymans? Probably not.
She closed her laptop. Then leaning back, she shut her eyes and tried to cleanse her mind of all thought. A little catnap might be in order, but her heartbeat so fast she didn't think sleeping was a plausible scenario. Eager to meet the McKenna Clan and begin her research, her body was wound tight as a rubber band ready to snap.
The bag of chips in her purse seemed to call to her just after her stomach growled its discontent. Trying to ignore the excessive calories and her empty belly, she rose and wandered to the window. Dinner would be that much better if she waited. Outside, the sun still beat down and one could see heat waves decorate the street.
The air conditioner chose that moment to blow out cold air. Sadie wrapped her arms around herself then turned the monitor down a notch.
Back at the window she looked at the street below. A man walked down the sidewalk, and as he grew closer, he stopped and shielded his eyes then gazed up to her room. Sadie's breath caught in the back of her throat and another chill swept through her. This time it wasn't caused by the air conditioner. The sight of the man sent an eerie feeling to the pit of her stomach. She stepped back in an attempt to remove herself from his line of sight.
The knock startled her away from the window. She jumped, afraid it might be the man she'd just seen but knowing it wasn't.
"Sadie? Sadie, you in there?" Brody called from outside the door. Damn, but she'd recognize his voice anywhere. A smile crossed her face. She meant to forget the stranger.
"Come in." Sadie looked back to the street below. No one was there. Once again she rubbed her arms. She felt as if a ghost had just swept through her, leaving her cold from her core outward.
"You okay?" Brody stepped inside, looking concerned.
"No, I don't think so. I…" Pausing, she hesitated to tell him what had just happened. What she'd felt. He'd think she was crazy.
ALSO BY CHRISTINE YOUNG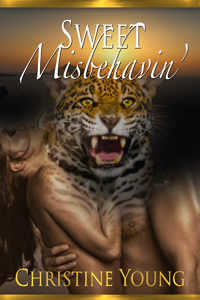 BLURB: Sweet Misbehavin
Cast adrift after fleeing the home of Jokul, the ice demon, Atantsi, a firestarter, grew to womanhood as she moved through time to keep the demon from finding her. Though stubborn and courageous, she was ill prepared to use powers she had not been taught. Her first sight of the intoxicating Carr McKenna left her breathless, and her second encounter gave her hope for a future she never thought she had.
A playboy, a second son and a shifter, a man who thought his life would be carefree, Carr McKenna was shocked to discover the woman he'd paid as an escort is a firestarter who is running for her life. He is the leader of all the McKennas around the world and that he has multiple powers. His passion for Margo and the need to defend her might cost him his life as well as hers.
CHECK OUT OTHER TITLES BY CHRISTINE YOUNG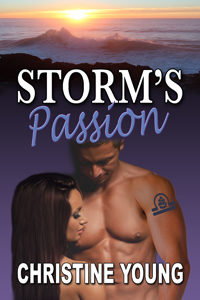 Buy at: Amazon,
REVIEW: Storm's Passion
Reviewed by Kinky Vanilla
http://www.kinkyvanillaromance.blogspot.com/
By all accounts, Storm Graham is brazen, strong-willed, and beautiful. She despises her father and loves her horses. So when Storm discovers that her father has signed a contract that forces her (and her horses) into the hands of one of the region's wealthiest and most despicable bachelors, she does not take it lying down.
After evaluating her options, she determines that her best bet is to convince the region's wealthiest bachelor to marry her. She believes that Hadden Johnston's money and power can protect her from the evil clutches of Charles Robertson (and his father). In return, she can offer her interest in the family's horse and brewery businesses. The problem? Hadden and Storm are merely business acquaintances and neither is really interested in getting married.
Desperate times call for desperate measures. Storm has nothing to lose by proposing marriage. Well, maybe a little pride. And Hadden knows all too well the ugliness that lurks in Charles' mind. How could he not try to intervene on her behalf? Combine that with the sparks of attraction between Hadden and Storm, and you'll end up with a marriage of convenience that had me wanting my own Hadden.
"This is an outrageous game you're playing Miss Graham. But I do understand how loathsome marrying Charles would be. I wouldn't wish it on my best friend and for some reason I've a need to protect you." – Hadden Johnston
Rich, powerful, and cruel, Charles is also not one to take things lying down…
Storm's Passion is a fast-paced, easy-to-read novel. I read it over a weekend. Luckily for us readers, the marriage turns out to be more than Hadden and Storm bargained for. They have a chemistry that is fun to read and watch grow. Storm isn't the stereotypical damsel in distress. She is a heroine that you really get behind and pull for as the story plays out.
I think that Storm's Passion is a great choice for people who enjoy historical romance stories. I must admit, I was a little thrown off by the book cover at first. It didn't really scream historical romance to me. But don't let all that hunkiness fool you. The book is set in England in 1818.
I look forward to reading more of Christine Young's work.

BLURB:
SHE MADE A PROPOSAL…
Life strikes Storm Graham a shattering blow when she learns her father has bartered her to a man she detests. Storm is beautiful, self–assured and fiercely independent, and refuses to be a pawn in her father's schemes, yet she can find no way out of this bargain made in hell. Going on the offensive she asks the wealthiest man on the eastern coast of England to marry her, never believing she might fall in love.
HE TRIED TO REFUSE…
For Hadden Johnston life has provided everything he ever wanted, including a sanctuary for homeless children. He is wealthy, handsome and happily unencumbered…until stunning Storm Graham marches into his life and proposes a marriage of convenience. Yet this type of marriage to a woman who inflames his senses is far from acceptable. If he's going to be tied down, he will move heaven and earth to have this woman warming his bed.