Hanami: V. C. Buckley
Please welcome V. C. Buckley author of Hanami.
V.C. Buckley author of Hanami will be awarding a $10 Amazon or Barnes and Noble GC to a randomly drawn winner via rafflecopter during the tour.

Hanami
by V.C. Buckley
~~~~~~~~~~~~~
GENRE:  New Adult romantic suspense
~~~~~~~~~~~~~
INTERVIEW:
What or who inspired you to start writing?
– My father was a born storyteller. He never ran out of stories. And as a child, he spoiled me with books. He would hide a book under my pillow and tell me that the book fairies left it there. He would read it to me while changing the story as he went along. So I heard several versions of Cinderella and Snow White. These stories have stayed with me long after he passed away. Needless to say, my father inspired me to write, even before I knew what writing was.
As far as your writing goes, what are your future plans?
-A LOT. I have many plans for my current book, HANAMI as well as for the sequel. I am also planning a series of middle grade adventure books for both boys and girls, as well as more romance novels in Young Adult and Adult genres. There are so many stories trying to break out of my head, so the future will be busy and action-packed!
If you could be one of the characters from any of your books, who would it be and why?
– This is a hard question, because I love all my characters-even the villains. Each of them has a story and a history. They all have a reason for who they are and why they became. They have a place of existence, even birthdays! So, if I were to choose, it would be dependent on my mood for the day. If I were feeling vulnerable, then I would want to be Sakura, because her strength and no-bullshit attitude can get me through the day. But If I was feeling daring or even upset to the point of being unreasonable, then I choose to be Yuna or even Jason. Because Yuna's patience is transcendent, while Jason's positive attitude is hard to break.
What is the best and worst advice you ever received? (regarding writing or publishing)
-Writing can be a solitary career, so no advice would be the worst advice. I was fortunate enough to have my manuscripts critiqued and read by several editors, agents and publishers while I was in the submission phase, and through this I had gained a wealth of knowledge about my own writing and how to make it better. It made me seek out organizations and workshops that can help hone my craft. And by making friends in the industry, it didn't feel so solitary anymore. I can't really say that one single advice is the best, because they all help build me up- whether positive or negative.
Do you outline your books or just start writing?
-I am a heavy plotter. My mind thinks too fast, and my hand has trouble keeping up with it. So the only way I can sleep is by putting down the initial story in an outline, and growing it from there day by day.
Do you have any hobbies and does the knowledge you've gained from these carry over into your characters or the plot of your books?
-I have many hobbies, but for this particular book (HANAMI) I joined a Kendo club to gain experience and get an authentic feel of the sport. My lead characters are both in their school's kendo club, and they also competed together. As the writer of this story, I delved deep into Kendo and experienced a real international competition as well as take a belt grading exam (Dan ranking exam), all the while noting every moment in that experience, so I could put it in the book.
Do you have an all time favorite book?
– With so much genres and variety in the world, its impossible for me to narrow that down to just one all time favorite. I must say that I am an old soul though. I love all the classics: from The Little Princess to Black Beauty and Uncle Tom's Cabin.
Have you started your next project? If so, can you share a little bit about your book?
-Due to many requests, I am in the process of developing my book HANAMI into a graphic novel. I am uncertain of it's completion date though, but it is moving forward. Aside from that I am rounding out the third and final installation of HANAMI and have started work on a stand-alone Young Adult quirky romance.
What is your favorite reality show?
-I am fascinated with SKIN WARS. I think it's amazing how these artists can paint on a human canvas and make them disappear into the background. This kind of creativity is on a whole different level. I also love cooking shows like Zumbo's desserts and Iron Chef. As a classically trained chef, I am astounded with the ideas and dedication these contestants have especially with the time restrictions. It's incredible!
Can you tell us a little bit about what it was like to write a series.
-I enjoyed being in the world I created, and I felt sad when I was approaching the end. After spending so much time with these characters, sometimes it feels like they are real.
Writing a series was challenging though. Not the writing itself, but more on the fight with one's self. The distractions and temptation to do other things are there, but I had to develop the discipline to keep on writing even during the days when I didn't feel like it. When I finally decided to publish HANAMI, I made a commitment to see it through to the end, and deliver it the best way I can.
BLURB:
SAKURA SHINTANI is the Dragon Clan heir-Japan's most notorious crime dynasty. But can she keep this fact a secret from the prying brats of Oniyuri Academy?
She tries to stay out of their radar while mastering her demons and keeping her murderous temper under control, but having the face of an angel only attracts everyone's attention… including the arrogant heir to Asia's most powerful tycoon, KENJIN KIYOHARA.
He senses the danger, but Sakura is too interesting to be left alone.
~~~~~~~~~~~~~
EXCERPT:
Jin rolled his eyes, settling his gaze back on the girl. He wasn't surprised with their reaction.
The new girl was hot, but so what? It took more than a pretty face to get his attention. He wasn't that easy to impress, and he was certain she'd be throwing herself at him anyway. Just like everybody else. He was sure this girl wasn't any different from the love-crazed hyenas that stalked him.
Jin pushed back his shoulders, seeing her start towards him with her eyes still trailing on the ground.
Already? Jin thought, suppressing a laugh. He crossed his arms, waiting for her to get closer, and sure enough she stopped right in front of him. She was even prettier up close. Asian but with a hint of Caucasian mixed in.
"What?" he asked, smirking. He already knew what she might say: whether he was Kenjin Kiyohara, the sole heir to Kiyohara Industries? The questions were all the same. He thought she would have at least waited until class was over like the rest of them.
"Move your feet. You're blocking my way," the girl said in a sharp tone. She shifted her gaze up at him like a threatening knife. Her topaz-colored eyes darkened, sending icy tremors down his back. He felt as if he'd been hit by a curse as his mind turned blank.
When she finally looked away, Jin was able to regain his senses. He tucked his legs out of her way, and she passed, leaving goosebumps in her wake. His eyes followed her, waiting to see if she'd look back, but she never did. Jin's hands were trembling. His thoughts became jumbled while he struggled not to look anymore.
What was that? What just happened? This was a first for him. He couldn't contain himself. His presence had no impact whatsoever. Instead she looked like she wanted to kill him!
Jin took a deep breath, replaying the moment in his head. Who was this girl? She sure got his attention, all right—and it left him in pieces. He fought the urge to look back again.
This girl…Jin thought. There was something about her. He couldn't shake off the feeling. She seemed dangerous.
Excerpt Two:
He snatched her backpack and swung it around his shoulder.
"Hey!" she protested, lunging for it.
Jin stepped aside, evading her grasp. He smiled to himself, taking long strides toward his car. He could hear her feet going after him.
Mr. Fujimaru was already by the car, holding the door open. His guards stood waiting like goons by the sidewalk.
"Look," she said, grabbing his elbow before he could duck into his car, "I don't care if you rescued me. I am not going with you! I don't even know you!"
Her words cut right through him.
She lunged for her bag again, but Jin threw it into the farthest corner of the back seat.
He looked at her tilting his head down, their height difference apparent. He thought about what she said.
She doesn't know me? His forehead creased. Was he really that invisible to her? He felt like someone had just slapped him across the face. He took one long look at her before ducking into his car.
He was confused. Any girl would jump at the chance to be with him—she should have been honored and groveling at his feet for rescuing her! What was wrong with her?
He felt her slide into the seat next to him, her knees slightly touching the side of his thigh. But before he could think, she reached across him, leaning her upper body against his lap to grab her bag. Jin froze.
She straightened back up, clutching her bag to her chest. Her eyes met his with a piercing glare, and a wave of heat suddenly swept over him.
Jin looked away, landing his gaze on her reflection on the car door window. Even with an angry face, she still looked so beautiful.
Jin smiled, tilting his head to the side to get a better look. I should stop this, he told himself, but it was too late. She was too interesting to be left alone.
~~~~~~~~~~~~~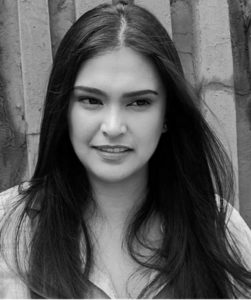 AUTHOR Bio and Links:
V.C. Buckley was born in an isolated government facility and shipped off to an Island in Southeast Asia where she grew up braving tropical thunderstorms and warding off evil villains. At sixteen she was discovered by an agent and jetted off all over the world. Her stories come from gritty moments of her childhood to the glitz of her travels. She now lives in Manila with her husband, two kids and an herb garden that has hijacked her balcony.
Other information:
Website: www.vcbuckley.com
Twitter:
@vccbuckley
Facebook:
@vcccbuckley
or www.facebook.com/vcccbuckley
Goodreads:
https://www.goodreads.com/author/show/17167092.V_C_Buckley
Buy links:
Amazon:
https://www.amazon.com/Hanami-Book-1-V-C-Buckley-ebook/dp/B075P5JGNJ/ref=asap_bc?ie=UTF8
B&N:
https://www.barnesandnoble.com/w/hanami-vc-buckley/1127115319?ean=2940154552964
Kobo:
https://www.kobo.com/ph/en/ebook/hanami-6
Book Trailer link:
https://www.youtube.com/watch?v=mhONdkI9y64
~~~~~~~~~~~~~
GIVEAWAY INFORMATION and RAFFLECOPTER CODE:
V.C. Buckley will be awarding a $10 Amazon or Barnes and Noble GC to a randomly drawn winner via rafflecopter during the tour.
Please use this rafflecopter code on your post:
http://www.rafflecopter.com/rafl/display/28e4345f2521