Deep End: Kathleen Duhamel
Please welcome Kathleen Duhamel author of Deep End
Kathleen Duhamel will be awarding a $25 Amazon/BN GC to a randomly drawn winner via rafflecopter during the tour.

Deep End
by Kathleen Duhamel
~~~~~~~~~~~~~
GENRE: Contemporary Women's Fiction
~~~~~~~~~~~~~
INTERVIEW:
What or who inspired you to start writing?
I began my writing career as a newspaper (remember those?) journalist and later got involved with public relations and travel writing. However, my lifelong ambition was to write a novel, and I finally got serious about it in 2013.
How did you come up with ideas for your books? I came up with the idea for Deep Blue after reading an erotic trilogy that was wildly popular a few years ago. I didn't particularly enjoy it, mainly because I couldn't relate to the young characters, so I set out to write a story that would celebrate strong, vibrant, and beautiful older women.
What expertise did you bring to your writing? I grew up listening to rock and roll and Motown, and I still love the music from that era, so I decided to incorporate it into my story by creating a fictitious band (Deep Blue) from the 1970s. I had a lot of fun "researching" vintage concert videos and "stage rage" incidents on YouTube!
What would you want your readers to know about you that might not be in your bio? Like my character Claire, I've been divorced and financially unstable. I'm also a two-time cancer survivor, and we share the same free-spirited approach to life.
As far as your writing goes, what are your future plans? I'm working on Fed Up, the first book in a new series. The main characters are a small town chef and a failing television actor, both in their 50s. At some point in the series, I expect one or more characters from Deep Blue to make an appearance
If you could be one of the characters from any of your books, who would it be and why? I'd probably be Claire, because she gets to marry her rock star! It's not all roses, though. Rob has some serious issues, including addiction and the appearance of a love child in Deeper (Book 2). Despite their problems, however, their love for each other is epic.
If you were the casting director for the film version of your novel, who would play your leading roles? That's a tough question! I'd thought of someone like Meg Ryan for Claire-very attractive, although not classically beautiful. Her BFF, Denise, would be played to perfection by Julianne Moore. Rob's musical partner, Artie, would be portrayed by a younger Richard Dreyfuss, and Rob…who knows? He's described in Deep Blue as a six-foot-four-inch Jewish man with a shaved head, piercing blue eyes, and a raspy tenor voice that sounds like a black man. Any ideas?
Do you outline your books or just start writing? I outlined my first book extensively, then ended up throwing it away. Since my books are character-driven, my job as a writer is to set up an interesting, plausible situation and let the characters run with it.
Can you tell us a little about the black moment in your book? The blackest moment in Deep End comes when Rob and Artie's chartered jet goes missing en route to Las Vegas during a scorching summer. Claire and Denise are faced with the possibility of losing the men they love. They're in a state of near-panic, feeling helpless, worried, and tormented by paparazzi. I wanted to convey the wrenching uncertainty and fear that takes over when you aren't sure you'll ever see your loved ones again.
Can you tell us a little bit about what it was like to write a series. My initial goal was to write a novel, period. About mid-way through writing Deep Blue, I realized I loved the characters so much that I wanted to see what other kind of jeopardy I could put them in!
Deeper was an absolute joy to write, because I knew what would happen from the first page. Deep End took much longer. For one thing, I was working full-time and writing on the weekends. I had a lot of loose ends to tie up, but I was determined to leave my characters in a good place, and I believe I've done that.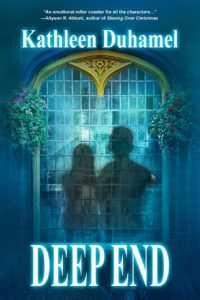 BLURB:
After years of struggle and harsh criticism, happily married rock star wife Claire Martin has finally achieved the career success of her dreams. As the featured artist in an international traveling exhibit, she looks forward to her best year ever, while her husband, singer Robert Silver of the legendary band Deep Blue, contemplates a return to touring.
Things are also looking up for Claire's best friend, Denise Hrivnak, who's planning her wedding to Robert's musical partner, Art Hoffman. However, what should have been most joyful day of Denise's life turns to tragedy when an unexpected event forces both woman to contemplate the terrifying possibility of life without the men they love.
Besieged by the paparazzi and sick with worry, Claire waits for answers in a Las Vegas hotel room, thinking over her improbable relationship with Rob and praying that love alone is strong enough to bring her beloved husband back from the brink.
~~~~~~~~~~~~~
EXCERPT:
Before Claire can say a word, I glance across the room to see the older man rise from his chair and begin ambling toward us. When he gets near our table he announces in an apologetic tone, "I don't mean to disturb your meal, but there's something I'd like to tell you, Robert, and I'll never have this chance again."
Let me guess. He has a friend/relative/colleague who wants to be a singer/songwriter/musician and would I mind listening to his demo? I produce a cursory nod and he continues.
"My wife was a big fan of yours." His shoulder sag. "She died a few days ago."
Claire gives him a sympathetic gaze.
"When she went into hospice care, she asked for her little CD player and all her Deep Blue CDs. I wanted you to know your music gave her some happiness and comfort during her final days. Your voice was the last one she heard before she slipped away."
An enormous lump rises in my throat, rendering me incapable of speech. Claire blinks back tears.
"Do you mind if I give you a hug?" she asks.
Without waiting for an answer, my wife rises and wraps her arms around the grief-stricken stranger for a few seconds. She takes both his hands in hers and says, "Your wife was fortunate to have had someone like you in her life."
"We were married for 37 years." His quivering mouth attempts a smile. "I always thought I was the lucky one."
~~~~~~~~~~~~~
AUTHOR Bio and Links:
Kathleen Duhamel is a contemporary women's fiction writer and the author of the Deep Blue Trilogy (Deep Blue, Deeper, and Deep End) as well as the novella At Home With Andre. She wrote and illustrated her first short story at the age of eight, and has been a writer for most of her life. Her love of the written word continued throughout her varied career as a newspaper journalist and editor, public relations executive, freelance travel writer, and owner/operator of two small businesses. A native of Texas, she has spent most of her adult life in Colorado. She lives in the Denver area with her husband, a geriatric standard poodle, and a spoiled cat. She is a lifelong devotee of rock and soul music, contemporary art, and popular culture.
http://mybook.to/DeepBluenovel
http://mybook.to/Deepernovel
http://mybook.to/athomewithandre
http://www.kathleenduhamel.com/
https://www.facebook.com/kathleen.duhamel
~~~~~~~~~~~~~
GIVEAWAY INFORMATION and RAFFLECOPTER CODE
Kathleen Duhamel will be awarding a $25 Amazon/BN GC to a randomly drawn winner via rafflecopter during the tour.
RAFFLECOPTER CODE:
http://www.rafflecopter.com/rafl/display/28e4345f2533