The Wager: Christine Young
In the Wager: Damian Andrews couldn't afford to trust the emerald-eyed spitfire who happened upon his secret.
The Wager ~ second book in the Twelve Dancing Princesses ~ Genre: Historical Romance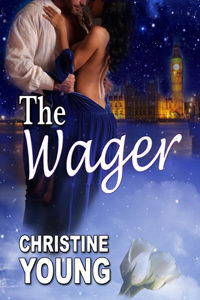 Buy at Amazon
Kindle Unlimited
EXCERPT: The Wager
The very essence of Amorica filled his head.
She turned to him, smiling, then gazed toward the fire once again. For a moment, he watched the flames dance in the grate. Her hair smelled of roses. His gut tightened. He swore softly beneath his breath, suddenly realizing this would be the longest night of his life.
Amorica leaned into him. His hands followed the comb's path. She sighed, and he was sure she had no idea what she did and how her slightest gesture affected him. Her eyes closed. Dark lashes swept across alabaster flesh. The storm had not been planned, and yet the isolation, the night alone, all served the sinister purpose he was destined to fulfill. Silence her. Bind her so thoroughly to him she could never leave. After tonight, no matter what he did or did not do, she was his. She would be ostracized by those with influence–and shamed.
His heart wrenched into two pieces.
Her cheek touched upon his chest. Her hand rested on his abdomen.
He sucked air.
She pushed away from him, her eyes open now and shining with trust.
Her innocence and courage always unmanned him.
"You have so many secrets," she said. "And I have the feeling you distrust me."
Trust was so very elusive.
Now, he trusted her to betray him.
"I trust few people." He pulled her close, letting her rest against him and reveling in the feel of her so close, yet so very distant. He could not have her, he reminded himself.
Because he did not want to hurt her.
Bloody hell, he had already hurt her irreparably. She would have to go home.
Unless he wed her.
He could not. He could never put her in danger or condemn her to a life of misery with a man she loathed. Damaging her reputation was nothing compared to her life–which would be in jeopardy everyday if they wed.
Her fingertips lightly traced his collarbone. His body shuddered at the sensation. She followed her fingertips with her lips, kissing him lightly.
She set a blaze within him, her every touch mercuric. She seduced him with every gesture, every look. Her hands ran across his chest, touching him everywhere.
"Amorica," his voice rasped. He could barely breathe, could not think. "This is not wise."
She stopped, her fingertip resting on his chest and gazed at him wide eyed. Then she touched him–with her lips–her tongue.
With one finger, he touched her beneath her chin, lifting her face gently. He needed to see into her eyes. Then he framed her face with his hands. For the longest time, he watched her.
"Do you have any idea how beautiful you are?" How very treacherous you would be if you knew the truth of my mission.
She started to shake her head, but his lips met hers, melded sweetly with her warmth. He traced the seam of her lips, and she opened for him.
Her nails bit into his skin. She made a low sound in the back of her throat.
Her urgency amazed him.
"Did you know you appear the braw handsome highlander?" she asked in return, pushing away from him then moistening her lips, her eyes wide, the centers dark with passion.
He kissed her again and pushed her back on the fur in front of the fire.
Embers crackled and then he heard nothing but the roar of his blood pounding in his veins.
He rolled so she lay atop him, straddling his hips. "You should tell me to stop."
She settled her hair behind her. "I don't want you to stop," she sighed, her smile lighting his heart.
"It does not matter. Tell me to act the gentleman and walk away."
"I like you the way you are." She bent low, her breasts softly pushing against his chest, her lips seeking his own.
He groaned, knowing he was damned.
Lord, but he could not stop himself and she made no effort to tell him no. He kissed her again, running his hands down her legs. They were long and soft. He turned her again, his leg resting between her thighs, his hands smoothing her cascading hair from her face. One fingertip traced the seam of her lips. His mind fantasized in directions it should not wander.
He had to stop.
ALSO BY CHRISTINE YOUNG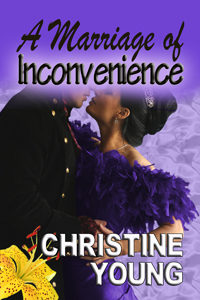 Buy at Amazon: Barnes & Noble:
A REGAL BEAUTY
When the duchess decides to wed her to a wastrel and a fop, Ravyn Grahm takes matters into her own hands and declares her engagement to another man. Instead of fessing up and telling her great aunt what she has done, she goes through with the pretense. Aric Lakeland is the bastard son of an earl and has a dangerous reputation. But Ravyn is willing to do most anything to keep the duchess from discovering the lie.
A DEVIL-MAY-CARE SMUGGLER
He'd bought land in America, looking to put down roots and end his life of adventure, but Aric Lakeland got more than he bargained for when he encountered a beautiful heiress who made a promise she didn't want to keep. But the promise could not be undone and standing between them were more obstacles than either ever dreamed. Aric had made plans to spend the rest of his life in America and that was at odds with Ravyn's plan of living in England and running her father's estate. Now, he'll have to choose between his dreams and the woman he loves more than life.