K.I.A.: Alexander Charalambides
Please welcome Alexander Charalambides author of K.I.A.
Alexander Charalambides will be awarding a $25 Amazon/BN GC to a randomly drawn winner via rafflecopter during the tour.

K.I.A.
by Alexander Charalambides
~~~~~~~~~~~~~
GENRE: Thriller/NA
~~~~~~~~~~~~~
BLURB:
Hildegard lives in a real-life dollhouse, surrounded by prop houses and actors who play friends, teachers and foster parents. Only one man ever seemed real, and after his disappearance, she's had enough playing along. As Hildegard makes her final preparations to run away from home, a swarm of black clad soldiers appear, controlling the police and swarming across her home town. She can evade them for now, but after learning their mission, she decides to play along one last time, following them to Truman Academy, a lonely building on a freezing aleutian island. Hildegard knows it for what it is: just another prop, but not everyone feels the same way. Through the hell of endless drills and marching, Hildegard befriends the stealthy Grace and bloodthirsty David, and enlists them in an effort to unravel the plan of the man called G and his monstrous menagerie of inhuman soldiers.
~~~~~~~~~~~~~
INTERVIEW:
What inspired you to start writing?
I don't like the word "inspiration", it plays into the idea of writing being this abstract, emotional process where ideas "just come to you".
I'm not boring, I promise, but I think it'd help everyone if we as a society grew out of this idea.
To actually answer the question, I started writing just because I wanted to emulate the books I enjoyed. I think that's how most people start, isn't it?
How did you come up with the ideas for your books?
When I get the urge to write something, it's because I enjoyed a story (in any medium) that did something I've never seen before, or one that was really, really bad.
When things go well, I want to know why and see if I can do the same thing, and when things go badly I can't help but think about how I'd do things differently.
As far as writing goes, what might be your future plans?
I don't keep a super strict schedule, I know both black Blade and K.I.A. will probably get sequels in the near future, maybe by the end of 2018.
At the moment, I'm working on Formula Q (working title) a novel about a high-speed racing league in the near future.
If you could be one of the characters from your books, who would it be and why?
I think I'd be Fishbowl Man from K.I.A. he, never gets a name but I think living in a diving suit all the time would be fun.
If you were the casting director for the film version of you book, who would play your leading roles?
I always enjoy getting this question because it lets me talk about one of my favourite issues, namely that "casting" a book is a really, really bad idea.
Let me explain, I think the most valuable thing about written story-telling is that the reader uses their imagination, and when the author leaves out details, particularly with characters, the reader adds them. Readers can see a lot of more of themselves represented in the heroes, and I think this is particularly important with respect to race or gender. The story changes depending on who reads it.
Books are one of the very few mediums that can do this, why throw away one of our biggest strengths as authors?
Do you belong to a critique group? If so how does this help or hinder your writing?
I have a group of close people that I trust to tell me the truth about my work, and I think this is invaluable when it comes to something so difficult as creativity.
How can you succeed at expressing something without another person's perspective?
What is the best and worst advice you ever received?
In Stephen King's On Writing, he outlines the need for a schedule and taking a two week break after finishing a draft.
I can't overstate how useful taking a break is. I try to clear my mind of everything about the book before I go over it again, and it gives me a much clearer picture of the book's issues and how to fix them.
Do you outline your books or just start writing?
Always and forever, I am The Outline Man. I will give my life for outlines.
First, I identify the elements I need (and just really want) for the book to achieve its intended purpose and list them. These could be plot beats, characters, symbols, specific scenes or even lines of dialogue.
Then I expand things to a numbered list of scenes (usually no more than 100), and after that I start working.
Do you have any hobbies and does the knowledge you've gained from them carry over into your characters or plots?
To be honest, I spend so much time consuming fiction of every conceivable medium that I sort of think of that as one of my hobbies, and depending on how much of an analytical view you take you can enjoy a story more than once.
Of course, this carries over into my writing, like I said above, this where I get most of my ideas.
Do you have an all time favourite book?
A Little Yes and A Big No, by George Grosz, who's also a really interesting impressionist.
It was part of the recommended reading on a modern and post-modern art course I took, and the whole thing, despite being an auto-biography has some really interesting thoughts, atmosphere, and feelings that apply to any form of expression.
Anything else you might want to add?
I just thought I'd say thanks for the opportunity. After this I'm going to eat a whole bag of humpty dumpty's.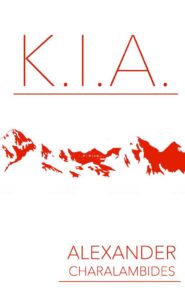 EXCERPT:
"Bacteria again," David says. "A biological weapon?"
"I don't know." Islet slurps the last of his soup. "I only sequenced part of it, and they keep the different teams apart."
"Is that what they're going to launch from the Silo?" Grace asks.
"You knew?" Islet asks.
"We found out about the Mobile Silo a while ago," I say. "We saw blueprints for it, orders for parts, too."
"Well, that's what they've been doing for days now," Dr. Islet says. "Hauling down the tanks of bacteria, assembling missiles."
"They're going to launch." Grace stands up as she says it.
"Right," I say. "There's not going to be any placement in special forces. Or graduation."
A few students stand up, like Grace. A few gasp. Most don't seem surprised. "If I had to guess, I'd say that once they launch, they won't need us. It'll be a massacre."
"You think so?" Islet pushes his glasses back up his nose. "It could be, we've been getting weapon shipments with the missile parts and replacement components for the Mobile Silo."
"Stop saying we," David grunts. "Unless you're with them."
"No, no, I'm not." Islet waves his hands back and forth. "You're right."
"We have to stop them," Grace says. I can't help but tally up the numbers. At the very least the baggers outnumber the students two to one. Almost certainly more, not counting KU Giant. Then there's the equipment discrepancy, and the differences in energy from eating and sleeping. I know there are vehicles, too, I've seen plenty of personnel carriers and jeeps with mounted guns, as well as the helicopters that are always coming and going.
"Uh, Hildegard," Grace says. "We were sort of hoping you'd come up with something."
I only wanted to find out what happened to Cooper. To be honest, I think I might already have lost my chance. It can't be my priority anymore. By the sound of it, it's not just the students that are in danger.
"There's only one way we can get enough supplies, weapons, and bodies to stop the launch."
"Okay," Grace says. "What's that?"
"This should be good." David leans back on the walls of the cabin. All the students stare at me.
"We have to take over the school."
~~~~~~~~~~~~~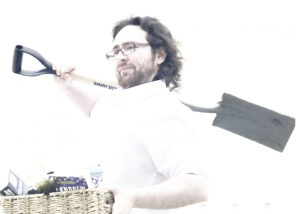 AUTHOR Bio and Links:
Alexander Charalambides was born in London and grew up in Berkshire in the UK.
He studied Creative Writing, and graduated from the Open University.
As a freelance writer Alexander enjoys storytelling just as much as editing and analysis, but often takes time off to enjoy wind surfing, do the sickest of motorcycle flips, wrestle with deadly animals and lie about his hobbies.
In 2008 he moved to the USA and now lives in New Hampshire's beautiful White Mountains with his family and two dogs, Gwynne and Gimli.
Website: AlexanderCharalambides.com
Facebook: facebook.com/ajcharalambides
Twitter: twitter.com/ajcharalambides
Buy Link: https://www.amazon.com/K-I-Alexander-Charalambides-ebook/dp/B075F9J9DC
~~~~~~~~~~~~~
GIVEAWAY INFORMATION and RAFFLECOPTER CODE
Alexander Charalambides will be awarding a $25 Amazon/BN GC to a randomly drawn winner via rafflecopter during the tour.
http://www.rafflecopter.com/rafl/display/28e4345f2539