Sweet Surrender: Paranormal Romance
In Sweet Surrender: Kimi McKenna finds herself thrust somewhere into the future where dark elements threaten to destroy the earth unless Kimi can work together with the white witch to stop the destruction.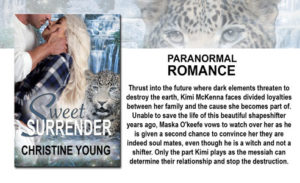 EXCERPT: Sweet Surrender
Buy at: Amazon
She caressed his cheek again, nodding her answer. I want to make love to you, Maska O'keefe. I don't want you to make any excuses, maybe not tonight but soon. I am not too weak to know my mind.
"I think it's time we left the lovers alone. They have no use for us, and Kimi is no longer in danger. She does have her mate." Lyn cleared her throat, backing from the room and tugging on Deacon's arm. Guy and Baylor followed suit.
"We will continue tomorrow," Sarah said, bowing before returning to her quarters.
Mak scooped Kimi into his arms, kissing her forehead, "Depends on what Kimi has to say. I don't want to put her life in jeopardy because she does too much too soon. No one is going to change my mind, not even the witch." Wanting nothing more than the safety of his woman, he cradled her against his chest. God, she was light as a feather. Had she lost weight since they arrived? He'd make sure she ate right. "I love you," he whispered for her ears only.
Carrying her up the stairs and through his house, he felt a deep compassion for Kimi. She'd given up so much for him, and still his people put her in grave danger. A battle might not be raged where she was forced to physically fight, but he had the feeling this mental combat she was engaged in was far more dangerous. He cursed Melva for her part in all of this. Then he cursed himself for his role.
Unexpectedly, he felt Kimi wind her fingers through his hair. She snuggled in closer. The warmth of her body close to him did little to ease his conscious. Perhaps he didn't want the guilt to vanish.
"Umm…" she murmured, "feeling better. Just want to be with you tonight." And always.
My thoughts too. What changed your mind?
Mak kissed her forehead. "Feeling better? I heard what you told me. Are you too tired for words?" He kicked the door to her room open and stepped inside, eyeing the bed with frustration.
"Yes, so much better. Why did you bring me to my room? Oh hell, it doesn't matter where we are." She pulled his head down and kissed him on the mouth. Too many words evaporated my energy, easier to speak without talking.
Shocked, Mak reveled in the feeling for a second before returning the kiss. "You have to rest, you know. I'm not going to be responsible for…" He told her even though his body rebelled, and he wasn't too sure what he was talking about. It had been so long since any intimacy at all had been shared between them.
"What if I don't want to rest? What if I want you to make love to me?" She slanted him a sexy as hell grin that made him want to put her on the bed and strip naked. He closed his eyes, trying to shut out the image in his head of Kimi naked in his arms.
Yet he knew better than to rush the agenda of sex between them. No matter how much he wanted to have that closeness with his mate. "We can talk in the morning. After you've had a good night's sleep. More than anything I want to make love to you, but the time isn't right."
"I want you," she said, rubbing her hands up and down his arms then across his chest. She moved closer and kissed the column of his neck, and he knew she tried to seduce him.
He groaned, comprehending the fact that if she kept this up he couldn't possibly be responsible for his actions. Of course he could. He inhaled a long deep breath and shuttered his feelings, searching for common sense.
SOCIAL LIINKS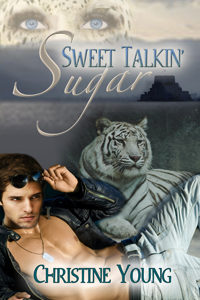 Buy at: Amazon
Lyonesse McKenna, was dreaming or was she? Her family of shapeshiters believed in soul mates. She'd always been sceptical yet she couldn't help but question the way her heart sped when he looked at her.
When Deacon appeared in Las Vegas he knew his first job was to save Lyn from a Sea Demon, but the next order of business was to convince her he would someday mean more to her than she'd ever expected. But her stubborn nature and unbendable spirit consumed Deacon…and he had to chase away all the demons real and imagined in order to win her heart.
http://christineyoung-romancewriter.blogspot.com/
https://www.facebook.com/Christine-Young-350132315013316/
https://www.pinterest.com/chrisy/
https://www.instagram.com/achristay/
https://www.goodreads.com/author/show/1087334.Christine_Young