Characterization: Background ~ Family ~ Occupation
Before you start writing make sure you know your characters: Background, Family, & Occupation
Understanding a your characters: Background, Family & Occupation will give your story more depth and layers for the reader.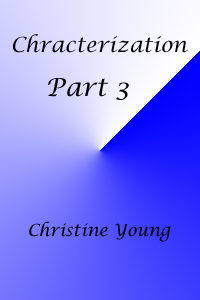 Creating these important elements will result in more dialogue and narrative. I also like to include favorite scent. This works well in a romance and can identify a character without the help of sight.
BACKGROUND:
Most of these speak for themselves. Type of childhood can create conflict and give the character a chance to grow and overcome this if the early experience were not good. Of course one doesn't have to fill in all of the blanks but the more blanks that are filled the better. All of these points create your characters.
Hometown:
Type of childhood:
First memory:
Most important childhood event that still affects him/her:
Why?
Education:
Religion:
Finances:

FAMILY:
We all know birth order plays an important role in the growth of characters personality. Relationship with parents and siblings works in the same way. Good, bad, or indifferent, relationships shape your characters and how they interact with other characters.
Mother:
Relationship with her:
Father:
Relationship with him:
Siblings:
How many?                                    Birth order:
Relationship with each:
Children of siblings:
Extended family?
Close?                                       Why or why not?
OCCUPATION
Again, what the character does for a living will shape his/her perspective on life. If the character lives in a different century, what are their hopes and dreams? Examine how society sees the occupation of the characters.
Where does Character work? For how long?
How does s/he feel about co-workers?    Get along with co-workers?
Like his/her job? Why or why not?
Character's dream job:
CHECK OUT CHARACTERIZATION PART ONE
ALSO CHARACTERIZATION PART TWO